One-Sheet Tips and Trends for Professional Speakers
A speaker one-sheet (aka: core offering, marketing piece) is typically one piece of paper, front and back, 4-color, consisting of a condensed version of why someone should hire you to speak at their event.
How are One-Sheets Delivered?
A one-sheet can be supplied in-person or through the mail in printed form, but most one-sheets are posted on the speaker's website for downloading or are sent by email as a PDF.
Be aware that some people do not like to receive attachments by email. So, consider uploading your one-sheet to your website so that you can include a URL for people to visit that will bring up your one-sheet instead.
Are One-Sheets Worth the Trouble?
Consider your speaker one-sheet as that one marketing piece about you that can be easily shared from person to person. They do take a bit of effort to write and construct. But, with the help of Lois Creamer and various discussion on her Make Money Speaking club on Clubhouse, you can use these tips and trends to create your one-sheet in less time.
Notes from Monday, August 23, 2021 – Make Money Speaking on Clubhouse with Lois Creamer
Every speaker needs a one-sheet.

Also known as a "core offering sheet".

When talking to someone who hires speakers, consider saying, "I'd like to send my core offering sheet to you," instead of "using the word one-sheet."

Refer to Lois Creamer's one-sheet format in Speaker Magazine.

Use your one-sheet as a script for selling your services.

Great marketing, sales, and communication tool.

Less is more, make your one-sheet as tight as possible.

A one-sheet is a concentrated look at your speaking practice.

"Snapshot" of your business that communicates to clients the benefits of hiring you, and shows core offerings, should leave people wanting more!

First thing you see is a picture of you and what you do.

No more than 2 speech titles, less choices makes it easier for people to make a decision.
Be sure to include a section of the front page of your one-sheet that highlights a benefits list for what the audience will be able to do by the end of your presentation.

Each bullet on the benefits list should begin with an "action word" (verb), allows decision maker to see themselves accomplishing this outcome.

Testimonials are important!

"Blurb section" is 2-3 sentences saying what client is going to accomplish by working with you.

Podcasts hosts love one-sheets too.

Include 10 questions on the reverse side of your one-sheet that your speaking addresses.

A one-sheet is a work in-progress, something that you always want to update as conditions, and your content, changes.

What should your photo look like?

Front photo should be professional business portrait picture.
Picture needs to create familiarity.
Resist the urge to use a photo of you holding a microphone (cliché)
The trend is to not send your one-sheet as an attachment by email, but to upload your one-sheet as a PDF to your website hosting account. For example, Marty Dickinson's one-sheet is stored on this website at https://herenextyear.com/pdfs/martydickinsononesheet.pdf

Include links on your one-sheet to videos/preview videos for client to watch of you. Ask your designer about making hot links from your PDF to your videos.

Add your one-sheet to your LinkedIn profile. As seen below, it could be added to your "Featured" section. "Features" on LinkedIn are only 2.5 pages, so if you have a longer one-sheet, be sure to prioritize what you want readers to see into the first two pages.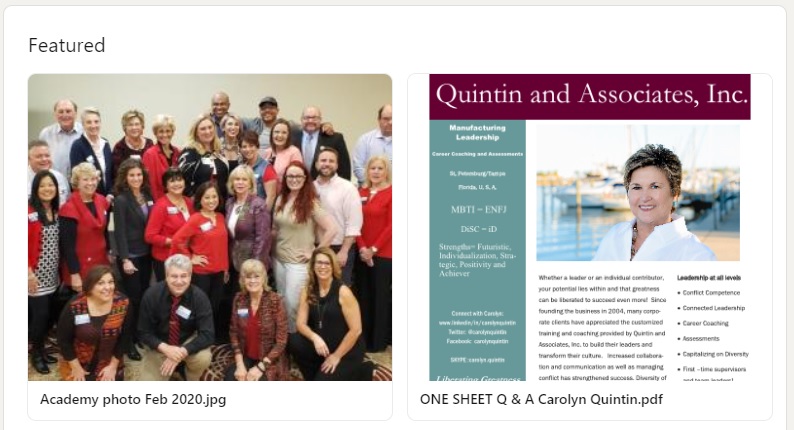 Some people are using the technique of making a QR code that can be scanned and then are brought to the one-sheet.

Canva is a great tool to keep your one-sheet in so you can go back and edit it easily on your phone and computer.

Create a short link to your one-sheet pdf or page on website to make it easy for people to remember and find.

Using different domains names, and forwarding them to specific pages on your website, is and easy way to bring your audience directly to the page on your website where you want them to go. For example, type in 101TrafficMethods.com and you'll be brought to a page on the Here Next Year website. Notice how the URL changes when you get there.

Event photographer could be a good way to get action shots or business portrait pictures.

Back of one-sheet can be anything you want. Questions, action shots, book cover, links to social media, more testimonials.

If your speaking has two focuses, or topics, you might want to think about having two one-sheets. But, if the two topics coincide, only have one. Have 2 if the topics are different enough.

Social media shouldn't take the place of your website or one-sheet. You need to have one place of real estate on the internet that you call your own.
Notes from June 28, 2021, Make Money Speaking on Clubhouse with Lois Creamer.
"Update Your One-Sheet Now!" was the main message from Lois June 28 Make Money Speaking session on Clubhouse. Venues are opening at a rapid rate and in-person events are being scheduled.
Listed below are several tips from that Clubhouse session.
What to Do with Your New or Revised One-Sheet
Get it out to people you already know and work with.
Send it to your friends and family. They might know someone who knows someone who needs you or that they should introduce you to. Ask, "If you ever come across a lead or someone I should know, I would appreciate it."
Send it to people you've worked with before
Send it to selected social media contacts
What to Say in an Email Using Your One-Sheet
Start with a good subject line: "I Wanted to Let You Know…"
Email body: "I wanted to touch base. It's been a while since we talked (or worked together). I just wanted to get my updated marketing piece to you and I'd love to know if I might fit into your future plans. I'll be following up by phone in the next few days to see if there's anything I can help you with. If so, please let me know."
Follow-up (by phone) within 48 hours. "This is Marty. I wanted to follow-up. I sent my latest marketing piece and wanted to follow-up to see if there's anything I can do for you."
Leave a voicemail as if it's your audition! Say the person's name you're leaving a voicemail for and give them specific instructions what you want them to do (contact you of course).
In reference by voicemail, phone or email, always say, "Thank you for your interest in my business. I wanted to give you a snapshot of everything I do and wanted to find out if I might be included in your future plans.
Components to Include in Your Speaker One-Sheet
Lois offered one-sheet design components including:
Picture, name and positioning statement.
Talk about the various outcomes people will receive in working with you, statements that begin with verbs:
Add a few testimonials.
Supply two to three sentences (a blurb) that repeats your positioning reminding people again of what you do.
Avoid adding your successes. Instead, what will change as a result of bringing you in as a speaker and you working with the potential client? People who hire speakers want to know what you will do for their audience.
Keep one or two sided.
Include book titles and contact information all on one side.
On the back, include social media, book cover, testimonials about book.
Add 10 questions, which can be questions you might be asked in interviews.
Use Lois Creamer's One-Sheet Template
Here is a link to the Speaker magazine article Lois was featured in where she outlines all the main quadrants of a one-sheet.  
Get Alerts When More Notes are Added from Make Money Speaking Sessions