The Best SEO Tool is Just $25/Month? Yep!
One of the few tools for business owners that really is worth paying for is a strong SEO tool. But, you never want to pay for more than you will use. So, how can you properly choose the right SEO tools for you?
To answer that question, we need to start with some basics.
What is an SEO Tool?
A Search Engine Optimization (SEO) tool helps to work in the right direction so you gain and maintain prominent positions on search engines for your website. When someone searches Google, for example, you want a page or post of your website to be in the top 3 search results.
These attained positions in the search results are referred to as SERPs, which stands for Search Engine Results Positions. I refer to SERPs frequently throughout this post.
SEO tools help you get better SERPs…and stay there.
SEO tools come in the form of web-based software (explained later in this post) and software that is downloaded and installed to your computer. SEO tools can also be free WordPress plugins like the All-in-One SEO Pack plugin or Yoast.
Why are SEO Tools Needed?
Back in the olden days of the web, 1995-1999 (pre-Google), SEO tools of today did not exist. There really was not much of a need for tools. You got your company website listed on Yahoo and then mass-submitted your domain name to the dozens of search crawlers and directories that were competing for search share at the time. We could employ just about any trick we wanted to try and could assure our websites would rank #1.
One of my favorite tactics was to duplicate the same keyword phrase 500 times on a page and add a link to the website in the middle of the page. You can't do that anymore and get away with it!
Google Changed Everything
In 1999, Google started to make its presence known as the dominant search player. Suddenly, if you knew your stuff, you could get any and every page of your website indexed on Google, not only the home page.
We studied, tested and tweaked every trick we could come up with to get higher SERPs positions on Google search. Over the years, Google would catch on to our strategies to out-rank our competitors. The term "black-hat" became a bad word to identify savvy marketers that competed for top search positions through any means possible.
Today, attempting to fake out Google with black-hat tactics is a surefire way to get your website demoted, suspended, or even removed completely and blacklisted from Google search.
The days of working around the system are over.
The only way to be assured of getting top search position rankings on Google is to play their game by providing top quality content, while adhering to Google algorithm standards.
To make sure that's happening, SEO tools are used. And, they're worth paying for if you have the right one.
SEO Search Tools are Essential Today
Many search tools exist improve your SEO today, but they all come down to doing one or two things: They either assist you in the process of finding and fixing SEO problems with your website or finding and creating new opportunities for expansion of your website's content.
Best SEO Fix Software Tool
Every once in a while, we are called in to rescue a company's SEO efforts.  We usually get the call a few months after the company's web guy is fired. SERPs are okay for a while, but then something changes in the website or the company's environment (or in Google's search algorithms) and the website's listings are suddenly nowhere to be found in search.
Our first go-to tool is called SEM Rush. We run a website audit using the tool and SEM Rush churns out screens full of reports with showing "Errors" that must be fixed for a descent SERPs presence to even be possible. "Warnings" are provided that could a positive impact if changed or improved.
Here is a screenshot of a website we just started working with. We placed red marks over sections that would identify the website for the owner's privacy. We ran a site audit today using SEM Rush and this was the initial output.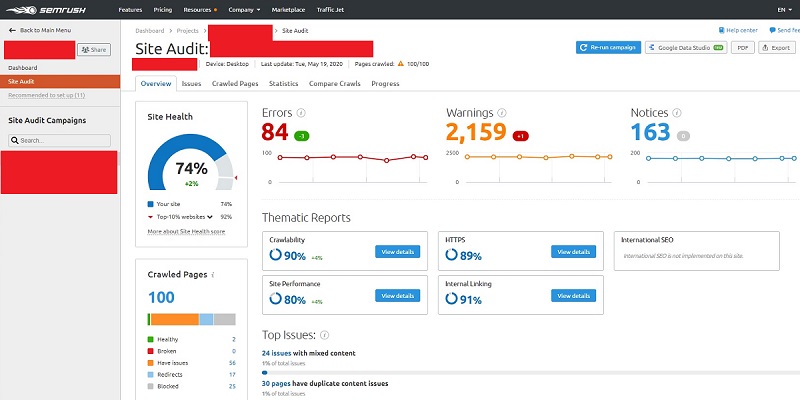 [The banner below is a clickable link to start your SEM Rush account. It is an affiliate link for which HereNextYear will receive a small referral reward for your subscription. In exchange for your sign-up through this link, we have made an instructional video to help you setup and start using SEM Rush within ten minutes. The program is fairly vast and will take you a while to navigate otherwise. Register and then send us a note using our contact form and we will send the link to the video without adding you to any opt-in list.]
We use SEM Rush for the first two to three months of a project where we are brought in to rescue a company's SERPs (Search Engine Results Positions). You can discover a lot of possible errors within a website that lead to Google displaying poor rankings for its targeted search phrases.
Best SEO Tool for Long-Term Maintenance, Monitoring and Growth for Less Cost ($25/Month)
The tool we use over the long-term for our own website projects, as well as for clients, is called KWFinder. For the past few years, we've been using KWFinder only for its amazing keyword research capability. 
In short, we use KWFinder before developing the content for any blog post or page of any website we work with. One of my early internet marketing mentors, Tom Antion, said a line I'll never forget when on the topic of website content. He said, "Getting hit by a car is a lot easier if you're in the street."
What he meant was: If you want your content to be seen by people, you need to write your content so that it gets positioned in front of people who are searching for that topic.
So, our steps to developing content for best SERPs are these:
Decide what we want to write about (main topic group).
Search for the phrase in KWFinder
Discover what people are really searching for related to that main topic.
Consider synonymous phrases people are searching for around the main topic that should also be included in your content.
Develop the content to surround the sub-topic.
I almost always use my phone when searching KWFinder. So, I figured I would show a screenshot for what the keyword research search result shows on my phone. In this example, I am researching keyword phrases related to the words "business book publisher."  Here is a screenshot: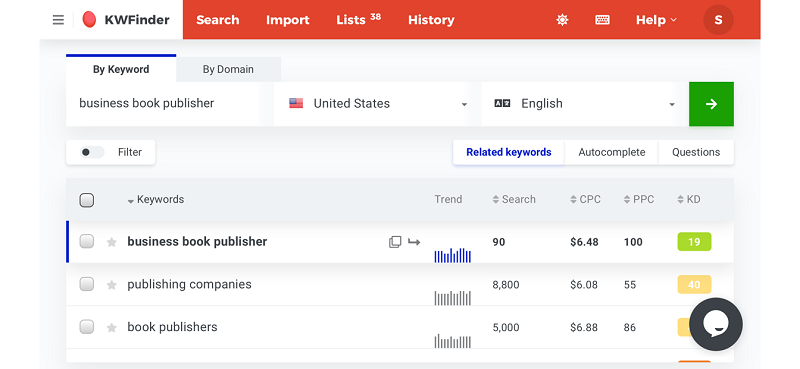 The second reason we like KWFinder for the long-term is for its daily reporting of SERPs for a far lesser price than SEM Rush.
You can track SERPs for as many websites as you want, up to 500 total keyword phrases, and only pay $25/month.
You couldn't even pay someone on Fiverr that little to manually search 50 phrases for you once per month!
[The banner is a clickable link to start your KWFinder account. It is an affiliate link for which HereNextYear will receive a small referral reward for your subscription. Just as for SEM Rush, we have made a short video to get you started in under ten minutes. Even though you really can start your initial ranking search in under 30 seconds, as the banner suggests, we have a few more suggestions to make your subscription bring the highest possible value for you. Register and then send us a note using our contact form and we will send the link to the video without adding you to any opt-in list.]
SEO Tools for a $0 Budget
If you are simply broke, or otherwise unwilling to invest financially in tools even the ones that can turn a huge ROI for their humble subscription fees, we recommend the following two free resources.
Free SEO Tool for Website Audit: Screaming Frog
Screaming Frog is a truly free SEO software that is downloaded to your computer. It doesn't try to lure you in to their paid version. It doesn't have a 15-day countdown and then force you to upgrade. So, if cost is your ONLY motivator, Screaming Frog should be in your tool shed.
Know right now that you're not going to even get close to discovering in-depth issues with Screaming Frog like you would with SEM Rush. But, like I said, if "free" is the most important thing, Screaming Frog may show you something to fix if you know to look for it.
After its quick installation, open the program and then enter your website's domain name in the top field marked in red.
Click the "Start" button and the tool will examine your website and list several areas for you to improve upon as displayed in the image below.
Free SEO Tool for Checking Backlinks
One of the most common requests we get when the subject turns to SEO is if we know of a free backlink checker. Many used to exist. Today, there are only "a few" (to be safe) that can be truly labeled as "Free." We are willing to only recommend one at this time. It's called ahrefs.
Now, let's be clear: ahrefs is a direct competitor with SEM Rush. Their bottom charge is $99/month. Their backlink checker really is free, but for the screenshot displayed below, ahrefs showed details for the top 23 backlinks for the website we ran the tool for.
Again, for someone with a $0 budget, and cost is the ONLY concern, ahrefs' free backlink checker is a good way to start. Of course, you can also see your backlinks if you have Google Search Console code installed on your website. And, that's free for a full report.
The Best SEO Tools are Not Free
Some say SEO is dead. Some say on-page and off-page SEO is just too much work or too unpredictable. We disagree. 
According to 2020 statistics posted on 99Firms' website, Google handles 77,000 search requests…per SECOND! As long as numbers like that are in play, spending the extra effort to fix, manage and expand your SERPs presence should be a top tier strategy for your business.
Marketing outlets of that magnitude require focused resources to gain maximum advantage. We suggest (and use) SEM Rush to fix SEO problems and then switch to KWFinder for longer term maintenance and growth. We suggest you do the same.