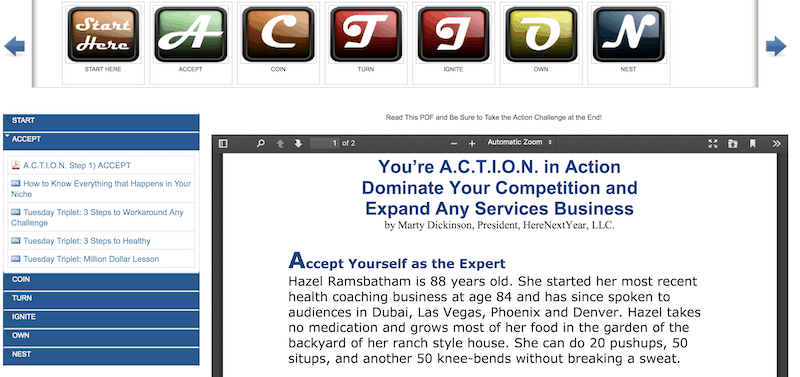 Learn the A.C.T.I.O.N. Marketing System When You Register as a LIFETIME FREE Action Starter Member?
The A.C.T.I.O.N. Starter is a mini-course to get you introduced to our 6-step marketing system. Each step is identified with a letter of the word ACTION and it can help any business to get more leads and sales whether startup or established. Each step is described, provides an example, and gives a few key Action assignments to get you moving forward on your own.
Each step of the A.C.T.I.O.N. internet marketing system includes supporting content to help you accomplish the objective. For example, the "I" in A.C.T.I.O.N stands for Ignite your internet marketing. One of the documents we provide to all A.C.T.I.O.N. Starters is our 101 Realistic Website Traffic Methods document, which you can use to create your entire traffic building plan for the next two years!
Your enrollment in the A.C.T.I.O.N. System also grants you access to our private and public virtual live events. Bring your best elevator pitch and meet other business owners, speakers and authors and increase your referral network. Event details are announced by email to our LIFETIME FREE members.
Every day we feature new content in the form of social media posts, live video or blog posts. Extended discussion and instruction is provided within the password-protected area available only to A.C.T.I.O.N. Starter subscribers.