Watch this Video Before Launching Your Next Facebook Ads Campaign
On the 9th episode of my Positive People Progressing show, "Fast Cash with Facebook Ads," I interviewed Facebook advertising expert, and author, Bob Regnerus.
Bob has co-authored the 4th edition of the Ultimate Guide to Facebook Advertising with Perry Marshall and Tom Maroche, due for launch in all retail outlets on October 27, 2020.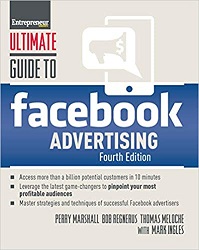 In a details-packed 30 minutes, we covered a variety of issues related to Facebook advertising strategy and Facebook ads marketing. 
What is Facebook Advertising?
If you have not experimented with Facebook ads, using them is one of the hottest ways to get an offer in front of your audience today. The Facebook advertising dashboard has developed over the years to provide you with specific tools to reach the most amount of people in the most diverse locations, while microtargeting specific market segments.
or if it's been a while since your last Facebook ad campaign, Bob presented one component of bad news. Prices for getting your fb ad on Facebook has increased.
Benefits of Facebook Advertising
There are so many benefits to Facebook advertising that it's hard to believe so many people avoid developing even a small scale Facebook advertising strategy. Here is a quick list of benefits for you to consider:
Easy to start – Numerous training programs and books exist to get you started. Bob's book (co-authored with Perry Marshall) is the definitive book (and most current) on the market today.
Easy access to new connections – By placing an ad in front of people who do not know you, you are welcoming them to connect with you in some way. Currently, there is no other platform that allows you to get in front of so many.
Easy access to your potential customers – People on Facebook are willing to buy. You just have to convince them your offer is worth taking a closer look at.
Improve reach to current connections – When you post to your profile or page, only a small percentage of your connections will see what you post. When you pay for advertising, you can assure your connections get the message.
Expand your reach to around the globe – If you're wanting to get a message out to other countries, Facebook has the reach and targeting to do just that.
Concentrate your reach to specific zip code – One of the best ways to advertise on Facebook is to condense your reach to micro-targeted locations.
Improve Google SERPs – As more people see what you're advertising on Facebook, they get introduced to your Website, blog, social outlets and anything other content they feel is worth sharing about you. This sharing and posting results in higher search positions on Google for your website.
Speed of FB ad listing – If you buy a spot on radio, expect a couple of weeks before you get into the queue. Your Facebook ads can start displaying in the same day you post them.
Repetition – People take action after seeing promotions continuously. Think of the "My Pillow" guy, for example. You can have the same repetition for your offers through Facebook, at a much lower budget, as the big guys do on television.
Traffic building – Even if you don't get a single sale resulting directly from your Facebook advertising, you can still drive significant traffic to your website, speaker page or author page. That translates into follows and opt-ins…which eventually will turn into sales, even if they're not immediate.
Sales platform – Of course, we have to include Facebook as the sales platform that it is. Bob's interview does a great job of explaining why actual selling from a Facebook ad is a challenge…and he provides an eye-opening solution that could be worth $1,000, $10,000 or even $10,000,000 to someone!
Trackability – The great thing about Facebook paid advertising is that your ad campaigns can be tracked and measured for ROI. Bob does a great job of introducing listeners to the Facebook Pixel and how it can be used to track the success or failure of a Facebook ads campaign.
Retargeting versus AI – I asked Bob to specifically describe the difference between retargeting and AI for using in Facebook ads. If you're new to either or both concepts, you will walk away with a new understanding if you watch the video in full.
Scalability – Personally, I like to try new promotion methods small and work my way up. Facebook allows you do to that. Begin with a small daily advertising budget, test and tweak, watch your results and expand.
Watch the Full Interview Recording About Facebook Advertising Strategy Featuring Bob Regnerus
Join Us Live Next Wednesday
Join us for episode #10 where I will explore the next hottest method of traffic building and developing an omni-presence on the internet: Getting onto podcast shows.
Your first step is to join the Facebook Group where all of our interviews are conducted live every Wednesday. Ask questions in the comments are during the show and we will answer them live.