The purpose of this post is to provide an evolving (but streamlined) SEO checklist for professional speakers over the coming years. This first edition is current as of January 2020.
Search Engine Optimization (SEO) is the term used to define specific actions a person takes to dress a website in a way Google requires so that the website can be listed in its search results. These actions could be in the form of changing HTML code of the website, adding content that's visible to website visitors, and even outbound efforts to get others to visit the website through social media and link building.
There are other quadrants of requirements, such as this complete list of more than
 200 ranking factors.
My objective here is to be succinct for what professional speakers need to know about SEO.
How is SEO Different for Professional Speakers?
In one sense, SEO is exactly the same for professional speakers as for any other service provider business. You have to find out what people are searching for and develop the pages of your website in a way that will get searched for and seen.
But, there is one respect that speakers do need to optimize their websites a little differently than in any other industry. That difference involves SEO with SHAs (Speaker Hiring Agents, as I call them) in mind. SHAs are the ones that research speakers and hire them for speaking gigs.
As mentioned in the 3 SEO tips for your speaker business, SHAs typically learn about speakers by referral or by being directly pitched to through a Call for Speakers form or cold call.
The SHA learns of the speaker's name and then searches Google for the speaker.
Your primary SEO effort as a speaker should focus on building your SERPs (Search Engine Results Positions) authority around your name.
So, let's focus on SEO for your speaker name first.
SEO Component: Domain Name
As I always say, your website is the very heart of everything you do online. It had better be strong. If that's true, then your domain name is the surrounding body that makes up your speaking persona. Your domain name needs to identify that body as accurately as possible.
Here is a hierarchy of what you should try to get for domain names related to your speaking persona:
YourName.com
If that's not available, try to get YourNameSpeaker.com
If that's not available, try to get YourNameSpeaks.com
If that's not available, try to get YourNameSpeaking.com
If that's not available, try to get YourNameLive.com
Another possible option if all of those are taken would be SpeakerYourName.com. Some speakers choose to highlight their book title in their main domain name instead of speaker name. That's fine too. What is important is that you choose your own priority wisely.
If your budget allows, register all of these variations if they are available because you can use multiple domain names for different purposes while protecting yourself from someone else with your name crowding your field.
Note: Register your domain names at a reputable domain name registrar and don't fall for gimmicks like $.99 or free domain names your first year because those registrars will make up for the giveaway by charging you much more later. I recommend all of my clients register their domain names at BestDomainPlace.com.
The two most important pages of a website for professional speakers are the Home page and the Speaking page. You always need a compelling home page that shows speaker hiring agents that you are the caliber of presenter they are looking for. The Speaker page needs to provide them with specific details that only SPAs would need, such as speech titles and descriptions, bio, headshot, written speaker testimonials, video testimonials, and more and more videos.
Here is a short-list of on-page components for your home page and Speaker page. For this section of the post, I will use a case study. Jack Zoellner is primarily known as the "relational leadership speaker." He also wants to be considered for speaking gigs as a "management speaker." If someone searches for the phrase "Jack Zoellner speaker," his website comes up at the top of Google's search results. Good job Jack! But, let's take a closer look at a couple of things.
Speaker Website Home Page SEO Components
URL – The home page URL is the domain name. It shows up on Google search with https:// and not http://. Google wants all websites to observe security best practices. Be sure your domain name has the SSL (Secured Socket Layer) component, which delivers the https://. Check with your hosting company if your website still only carries http://.
Page Title – The Page Title is what appears in Google as a blue lettered link. Getting top positions for the speaker's name alone will be a challenge since his name is shared with a famous baseball player. Currently, the ball player commands the first 18 positions before the speaker's name appears.
Meta Description – Although the meta description is said to no longer have weight as something that adds or subtracts to your page's search position, it definitely shows "relevance" to Google that this particular page is about what's defined in the meta description. And, that relevance could very well contribute, even if slightly, to your search position.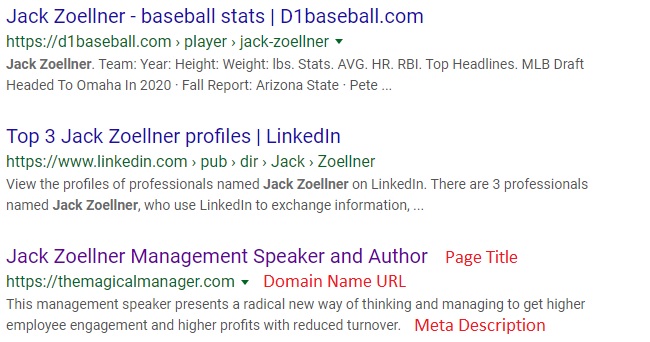 Now, let's look at what displays when the speaker hiring agent searches the speaker's name + the word "speaker." He is at the top of Google search. Mission accomplished for this page.
Notice the word "author" is also part of the Page Title for this speaker. Associating your book with your speaking is a big credibility builder and one of the main components of the Here Next Year speaker marketing process. People will click on this speaker's link with the confidence he is an expert in his field; in part because he is an author.
Headline – The developers of WordPress made the decision one day to confuse everyone and use the word "Title" to identify posts and pages within its Content Management System (CMS). Where they say "Title," you need to think of it as "Headline." Whatever you type into the Title field in your WordPress page will (should) receive the h1 tag surrounding the headline. The letter h in h1 stands for Headline and you should only have "1" single h1 tag for your entire Home page.
"Experts" will argue with me, but I believe the h1 tag still has a significant impact in SERPs. Numerous times, I've worked with websites where a page (or the entire site) has no h1 tags to identify any page. When h1 tags do get added, surprise! Suddenly, their pages are on Google search again.
Use the View Source command to look at the HTML code behind your pages and make sure you have a single h1 Headline for every page and post on your website.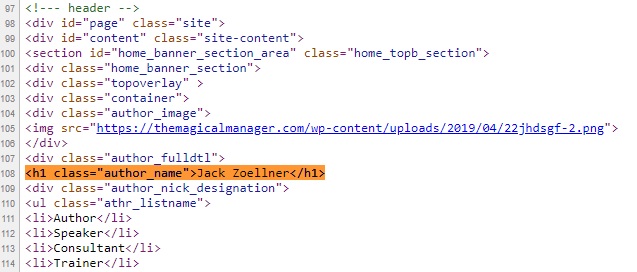 The Headline should not be exactly the same as your Page Title but they can (and should) share some of the most important keywords. In this case, the most important words are the speaker's name.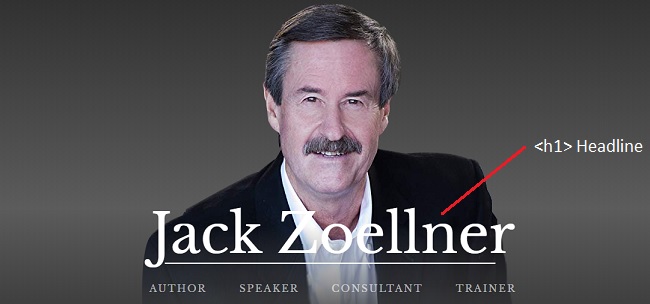 Sub-Heads – Sub-Heads help to break up information into organized quadrants. Google loves content that is organized for website visitors to easily read. Yet, for a professional speaker's website home page, sub-heads might not be necessary. Remember, the goal is to optimize your speaker home page for your name, your name + speaker, and maybe a very popular high level speaking topic. And, you want to keep your website very fast loading and succinct. Be careful making the choice if you use sub-heads (h2, h3, h4, h5) to display elongated content on your home page.
Photos – Our case study speaker chose to use a professional photo for his home page instead of a demo reel video. That's fine. Every speaker's home page should have a primary photo (preferably of the speaker speaking on a stage that indicates the size audience he's used to speaking at) or a video.
Every photo and image used on your home page needs to be optimized specifically for the home page. When you save your photo, give it a file name that involves the main keywords in your Page Title. When you upload it to your website, provide Alt Text that identifies the photo for people who's browser does not properly display the image.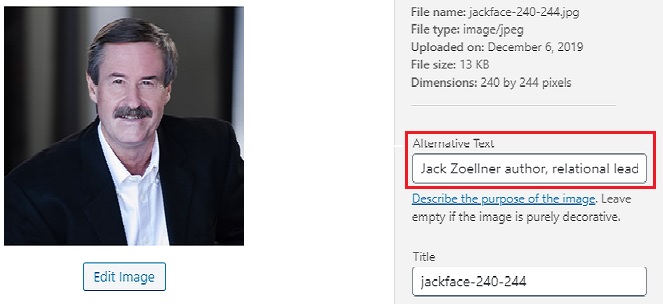 Videos – Any video used on a speaker's website needs to be optimized as well. But, I'll save that instruction for the Speaker Page since you would use the same optimization for video on the home page as you would for the speaker page.
Schema Markup and Open Graph are advanced components of SEO that I will cover in a later post.
Where Can You Practice Speaking on Virtual Live Video for FREE?
Speaker Page SEO Main Components
The Speaker Page is the page of a website that is created specifically for people who higher professional speakers. The general public is welcome to view the Speaker Page, but they are more drawn to blog posts in hopes of finding useful content. The Speaker Page should be optimized for the most important keyword phrase related to the speaker's presentation ambitions.
Continuing with our continuing example, the speaker's Home page was optimized for his name and "management speaker." His Speaker Page, however, is optimized entirely for the phrase "relational leadership speaker." Let's look at the components as we did for the Home Page.
URL – The speaker's URL is his domainname/speaking. He could have used /speaker as well. The root word is "speak" so either will accomplish the role of the URL.
Page Title – In view source, the Page Title looks like this on the speaker's Speaker Page: 
<title>Relational Leadership Speaker for Your Next Keynote or Session</title>
Let's take a closer look at the layout for this Title.
First, the main keyword phrase he wants to appear for is "relational leadership speaker." That goal has been achieved.
The words, "for your next keynote or session" define to the searcher what type of speaking gigs he's interested in.

Meta Description – The main thing to point out for the Speaker Page's meta description is how it's different than the meta description used for the Home Page. On the Home Page, this is what was created for the meta description:
<meta name="description" content="This management speaker presents a radical new way of thinking and managing to get higher employee engagement and higher profits with reduced turnover."/>
No mention of his true focus on speaking for the Home Page meta description. But, now have a look at the meta description for the Speaker Page:
<meta name="description" content="Hire Jack Zoellner, the relational leadership speaker, for your next conference or management meeting."/>
His primary speaking topic, "the relationships speaker," is prominent. Conference and meeting is also mentioned which provides some focus to the types of events he wants to speak for.
Headline – The Headline for this Speaker Page is identical to the Page Title. Some WordPress websites are setup to create the Page Title automatically using whatever is typed into the Title field for a new page or post. My suggestion is that you either deactivate that feature or use the Yoast SEO or All-in-One SEO Pack plugin so that you can customize your Page Titles (and meta descriptions) to be slightly different than your h1 main headline.
A Headline is supposed to entice the reader to read more. So, you may wind up constructing a Headline with additional words so that the Headline's length is longer than the recommended 5-8 words you would use in a Page Title.
Sub-Heads – The sub-heads chosen for Jack's Speaker Page were as follows:
> Move from Losership to Leadership with relational leadership speaker Jack Zoellner.
> Become the Company Everyone Wants to Work for
>Relationship Speaker, Jack Zoellner, Provides the Solution
> Not Another Program but a Movement for Any Industry
> Jack Zoellner provides a whole new way of looking at companies and the way people work together.
> Customized Presentation for Any Audience
> People Don't Quit Companies…They Quit Bosses
Only a few of these sub-heads mention the exact words "relational" or "leadership." But, all of these Sub-Heads are related to the same topic while providing confidence to the Speaker Hiring Agent that this speaker will provide what the audience can expect. Be careful not to use your desired keyword phrase too often in your sub-heads and page content.
Photos – This component was covered in the Home Page section so let's move on to what was not covered…video SEO.
Videos – Optimizing your YouTube Channel and optimizing video for your Home Page or Speaker Page are certainly related, but they are different as well. Consider these facts:
You can optimize your YouTube Channel so that the video itself appears on Google search or if someone searches YouTube specifically for your name or the video. But, that only brings more people to your speaker website if you provide a link inside your video description on YouTube and the viewer clicks the link to go to your website.
You can host your video on Amazon S3 or some other video hosting company, which will make Google happy that you are supplying video to your website visitors and could help with SERPs, but you won't get any traffic from YouTube if your video is not hosted on YouTube.
Still, a bit like a meta description, adding your YouTube video to your Speaker Page proves relevance to Google. If your video is relevant to your content, based on the name and description you've provided within your YouTube account for the video, you will get a relevance reward. And, relevance in content of any kind, video or otherwise, helps in SERPs.
Video on speaker websites is another one of those things where techie developers will argue with me about its contribution to search positions on Google. All I can say is that I've personally experienced websites getting higher search positions on Google when YouTube videos have been added.
Whether that increase is a result of simply adding new content, adding new relevant content, adding video, or Google awarding search position favor because of using YouTube (Google) products, I can't be sure. What I can say is that displaying video on your Speaker Page will probably help your SERPs.
SEO Component: Mobile Responsiveness
People who hire speakers look for 25 key items in a website when considering a professional speaker. I presented them at National Speakers Association's national conference some years ago. The components have not changed, but, the mechanism in which SPAs view websites has definitely changed, whereas they all review speaker websites with cell phones now.
Notice in this Google Analytics image (not Jack's website by the way), which shows only 20% of its visitors looked at the website using a mobile device. For the particular website I'm pulling these stats from, this percentage is lower than the national average of more than 50%.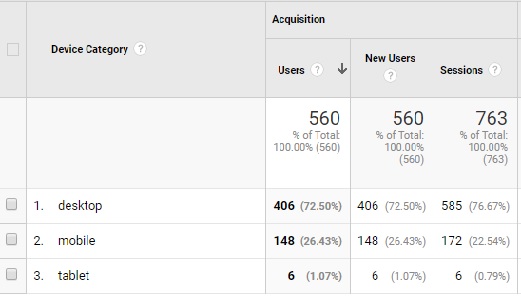 That's where CSS and WordPress help a lot. With some easy programming, your speaker website can (and should) be configured to look the same on every mobile device available. When Google sees you have made the extra step to provide a positive viewing experience for your website visitors, your website definitely gets two thumbs up…and higher positions in SERPs.
You might see a similar view in your own Google Analytics account thinking mobile responsiveness isn't that big a deal for your website visitors.
What I will say to that is my personal challenge for you: Develop your website as if EVERY visitor is looking at it through a mobile device of some kind.
And, even for this low percentage, look how many different mobile devices have been used to view the website.
SEO Component: Content Freshness
What's the first thing you think of when you search for something on Google and you see a blog post dated 2006? You probably feel the content will have a good chance of being stale. Google thinks that too! Google is funny when it comes to dated content. Have an archive of posts or pages beginning yesterday and dating back 15 years and your website is considered an authority figure. Have the same content but nothing new in the past year, and Google starts to think you've gone out of business. Many people have stopped providing blog posts on their website. I've even heard the phrase "blogging is dead." Heck, I've heard "SEO is dead" for more than ten years now! Don't believe either. Publishing quality blog posts is still highly welcome by Google as well as your target audience—people who hire speakers like you! Demonstrate your topic is fresh. Show you can produce quality content, consistently, over time. Prove to Google that your speaker website should command top Search Engine Results Positions because you are a fresh speaker with fresh and relevant content. That's one of the best ways overall to improve your SERPs and industry authority. After SHAs are done watching your videos and reviewing your Speaker Page, where do they go next? To your blog. Conference coordinators and program managers, meeting and event planners, educational directors and marketing managers alike…they all want the same thing when it comes to bringing in new speakers for their events. They want their audiences to receive current, cutting-edge information. Your blog posts and connections to social media are the perfect place to demonstrate that freshness to a wide variety of people.
Speaker SEO Component: Off-Page
I've been using SEO since before there was even a term for it; long before Google was even an idea. In the olden days of the web, we used to use every trick we could think of to get search engines to list our websites before others.
We would make a text page with 500 repetitions of the same keyword phrase and then stick a link in the middle and publish it to search engines. But, the search engines caught on.
We would add links to our domain names inside a thousand directory sites, but the search engines caught on.
We would write blog posts and then spin them by slightly changing the content, sentence for sentence, paragraph by paragraph, and then distribute the post to 500 other blogs over a week's time.
But, you guessed it. The search engines caught on.
A lot has changed over the years when it comes to implementing off-page strategies that improve SERPs for a website.
  
You can have your entire website blacklisted by embarking on any of those old techniques today. So, be careful and know exactly what you are getting if you go out-of-house and pay people for SEO help. They could very well be conducting black hat SEO practices behind your back just to get you short-term improvements in search engines results positions.
So, let's start with a definition: Off-page is defined as any efforts beyond the website itself that could positively or negatively impact your search positions.
That could mean links from other websites pointing to yours. It could mean your name being used in content on other websites without a link. It could mean photos of you on-stage at an event that get posted on Twitter while the audience member is watching your presentation. So many off-page possibilities exist. It would take me a month to consider them all and post them here.
Instead of proactively attempting an off-page SEO campaign, my suggestion is for you to focus on producing top quality content.
For example, I'm taking several hours out of my week, over a period of four days, to produce this blog post for you. My intent (and hope) is that you feel it is of such high quality and focused for professional speakers that you might put it to immediate use for your own speaker website.
I'm also hoping that you will see improvements in your own SERPs so that you feel compelled to share it with other speakers you might know so they can benefit too. I've looked. There are not many resources for SEO specifically for professional speakers.
After you share the post on your social media, my next hope is that you will make a blog post of your own and include a link to this page. Not because I've asked you to and not because I've paid you to do it; but, simply because you want to keep an archive so you don't lose access to the post yourself and so that you can refer others to it in the future.
That's how good content gets spread throughout the web. And, that's how websites acquire authority and higher search positions too.
Follow that model and you will get more links, more mentions, and more shares and more likes on social media. Google will definitely see the results of your efforts and reward you with higher SERPs for your website.
Give me two competing websites with identical domain weight and on-page SEO. The one with links, mentions, and shares will always win in the SERPs.
Speaker SEO Component: Website Hosting
Well, those were all fun to present to you. Now we have a sticky subject to cover; website hosting for better SEO. My suggestion is to stick with the hosting you have. Maximize all SEO attempts before switching your hosting. If you don't get the results you expected, and feel like you've done everything right, there is a good possibility your website hosting is, at least in part, to blame.
A client called me one day saying her website was down. On her behalf, I called her website hosting company. The support technician told me, "All 8,500 websites on that server are down because one of the hosting clients was conducting malicious marketing outreach and got the whole server blacklisted."
Yes, the actions of one essentially removed entire server from being seen by anyone on the internet!
I'm using a real life happening to describe in as non-technical terms as possible how very possible it is for something very technical to occur in search engine optimization land.
A web server can have a devastating impact on your SEO efforts.
If someone hosting their website on the same web server as your website conducts black hat SEO (malicious tactics in hopes of favorable SERPs), all websites on the server could be blacklisted from Google's search results.
Of course, that would be extremely rare. But, the possibility exists and increases the less you pay for website hosting.
If you have your own dedicated server, for example, there are no other websites other than yours on the server. You don't have to worry about other people standing in the way of your progress. Of course, you will have to pay anywhere between $100 and $500 per month or more for a dedicated server. So, most people don't go that route.
The next option, working our way down, would be to get a Virtual Private Server (VPS) where there are other websites hosting on the same server but your websites have separate IP addresses and/or are sectioned off from other customers.
This is a good option, but is still in the $50 to $150/per month range.
Most people seem to want to find the cheapest website hosting they can find. For them free is best. Acceptable is $.99 is acceptable.
Well, you see where I'm going with this. People who use malicious marketing tactics never seem to want to pay for higher end hosting either. They look for the bargains and setup dozens of accounts at a time for cents on the dollar. They will invest in literally thousands of websites to promote their money sites. And, they'll use the cheapest website hosting they can find.
Here are my specific recommendations for choosing a website hosting company as it relates to SEO.
Avoid EIG-Owned Hosting Companies – EIG is a venture capital firm that continues to buy up large and small hosting companies. You can read more about EIG (link to bestdomainplace) here, but let's just say HostGator, BlueHost and 1&1 are all EIG owned. Host with them at your own risk. But, hey, you'll get a great deal!!


Choose Country-Based Hosting – If you are in the U.S. choose a hosting company that has web servers in the U.S. Google looks at IP grids as part of its relevance measurement.


Select Hosting Designed for Your Website – Some web servers are configured to work better for WordPress than others. That "better or worse" measurement usually translates to the speed at which your website displays for a website visitor when that person lands on your website.


Select Hosting for Your Website Visitor Quantity – If your website gets 50 visitors a month, you can pretty much host your site anywhere and get the same result. Everyone will be able to see your website whenever they want to. But, if you have 500,000 visitors a month, your hosting will need to be high volume capable, in both bandwidth, disk space, and RAM/processing. If your web server tanks as a result of more traffic than your hosting will allow, Google will take notice!


Select Hosting for Concurrent Visitation – The other difference you will see from one host to another is how many concurrent sessions your website hosting allows. Think of a session as a person. If you have 1,000 people attempt to, say, sign-up for your webinar at the same time, what would happen? Be sure your hosting works well for your expected concurrent visitor amount.
If you are a new or emerging professional speaker, I would like to suggest you consider hosting with use at Here Next Year. We have dedicated servers that we partition for our own clients.
Speaker SEO Component: WordPress Specific
If you use WordPress to power your website, some specific items need to be functioning properly in order for your SEO efforts to pay off to their maximum potential.
SEO Plugin – To optimize the pages and posts of your WordPress website, you will need some kind of SEO plugin installed. Yoast is a popular plugin. All-in-One SEO Pack is another I've used on several sites. There are many options. They all attempt to accomplish the same thing. Keep trying SEO plugins until you find one that works best for your particular situation and skills level.
Caching Plugin – WordPress is a database-driven Content Management System (CMS). When a person visits a page or post, the database assembles the content, photos, and whatever else you have on the page and displays it for you. Caching keeps the assembly of pieces and parts and contains them as assembled for the next visitor and the next so that the server does not have to do as much work to provide the content.
The SEO benefit of cached pages is in two parts:
Google sees assembled pages instead of content in pieces and can therefore determine how to list the page.
The pages are delivered more quickly to the website visitors. A speedily-delivered page of content is exactly what Google is hoping for and gets your pages higher on SERPs.
Here is a good instructional page for both viewing pages as they become cached by Google and how to remove cached pages from Google's index: 
Compression Plugin – Files, CSS files, images, photos, and Javascript need to be compressed so that WordPress pages display as quickly as possible to website visitors. Compression plugins have been developed to help with this step. The most comprehensive compression I've worked with so far comes in a suite of plugins called Hummingbird.
The usage of Hummingbird is beyond the scope of this post, so consult your web developer, virtual assistant, or hosting support for guideance. The key point is that you need to optimize your WordPress website for speed of delivery because this component has become one of Google's factors for awarding SERPs.
WordPress Hardening – The last step in optimizing your speaker website built with WordPress is to harden your website so that it lowers the possibility for hacking and injection of malicious code. If you have a website that becomes infected, Google will know.
If the malicious code is not fixed promptly, Google search results will start warning visitors that there is a problem with your website. Of course, this warning left unfixed, will eventually cause your SERPs to drop. One plugin to try is known as WordFence.
How to Audit Your Website for Good SEO and Monitor Your Search Positions
I have one final recommendation for you. If you want to get more involved with SEO for your speaker website by implementing SEO yourself or have more of a director role in working with your developer to attain higher SERPs, I highly suggest you subscribe to one of the four best SEO tools we use on a daily basis for our own websites and client website we wor with.
Some are free while some have a fee. All SEO tools are helpful and worthwhile when they are the right fit for your situation.
Get Help with Your Speaker Website SEO
If this post has inspired you enough to get curious about your speaker website SEO plan for the coming year, but has also convinced you this is all a bit much for you to handle on your own, consider hiring Here Next Year Internet Marketing for Speakers services for help. 
Consider this endorsement from National Speakers Association Colorado Chapter former president, Dick Bruso, CSP.