Your Author Website Should Sell Books…and You
Of course the main purpose, objective and best practice for your author website is to sell books.
The "author" part of an author website is to prove to visitors that you are a real person and worthy of their trust…so people gain  confidence that your book is worth buying.
By deploying various best practices for your author website, the first impression you make on a potential reader will be the one that inspires the person to go buy the book.
How is an Author Website Different than the Typical  Website?
An author website is different from any other type of website. There are a few best practices you should use for an author website that are exclusive to the writing and publishing industry that you would probably not normally need in a company website.
An author website is even a bit different than a speaker website, although, the two are related.
If you write a good enough book, eventually you will be asked to speak on your topic. If you speak well enough, your audiences will start demanding a book from you.
But, there will be differences based on your focus. If you are a speaker with a book, for example, your main focus will be featuring your speaking, and using your book as a credibility builder.
An author who speaks may choose to showcase the book as the main attraction, with a small section of the website devoted to speaking availability.
Again, the purpose of an author website is to…sell books.
What is a Good Author Website?
A good website of any kind convinces website visitors that their time will be best spent if they take a next step of action that the website is suggesting.
A good author website gets potential readers to buy the book, as mentioned earlier.
Once you're past the initial goal of an author site, you should be looking forward to several additional objectives. For example:
Get the opt-in. Feature an object of value that is worth the website visitor's time and privacy to give you their email address in exchange.
Get the Google search position. When someone searches Google for your book title or your name, your website should come up on the search results page. It might rank above or below other search results, particularly if your book is on Amazon or your book is released through a traditional publisher, but your author website should still be on the first page for specific searches.
Get the community build. People want to follow people who have written books. Your author website is the perfect opportunity for you to feature links to your social media pages. If you host a Facebook group, or Clubhouse club, your author website is the perfect place to feature the purpose and popularity of that group or club.
Get the lead. Some people who visit your author website will bypass your book (or maybe buy it too), but they will want to save time and just contact you to hire you. Hiring opportunities exist for authors for speaking engagements, consulting, training, and done with you services. A good author website provides enough information to get someone curious while their wallet is open and ready to buy.
All of these objectives need to be taken into consideration as you examine and implement our list of author website best practices and checklist.
List of Best Practices for Your Author Website
Use this checklist as a means of structuring your website and its content. Keep in mind that every author has a different website expenditure budget than the next. So, some of these best practices might not apply to you, today, but could be used in the future as the popularity of your book grows and the business side of your book expands.
Choose a primary domain name for your author website. Since you may choose to publish more than one book over time, you need to have a core website for you as the author. So, use your name as your core author site domain name. Search your preferred domain name registrar for [yourname].com. If it's available, use that for your author site. If not, search [yournameauthor].com and use it if it's available. If not, try [yournamebooks].com
Register other domain names to support the book. Always register a domain name for your book title, or as close as you can get, and include the word "book" in the domain name. You can use the URL Forwarding feature at the domain name level to forward your book domain name to either your book description page on your author website or to your book page on Amazon. URL forwarding "should" be a free feature in your domain name registrar, as it is in our recommended domain name registration resource, BestDomainPlace.com.Start a new browser window and enter LionsAlwaysWinBook.com for an example of how the URL Forwarding feature works for a domain name. Once you type that in, you'll see how the URL changes to the raw link on Amazon. That's how you want to use your URL Forwarding.
Hosting Type. Having your own dedicated server is always the best way to go if you can afford it. Second choice would be virtual private server. Only if you are completely strapped for cash should you go with the cheapest form of hosting, which is called shared server hosting. with shared hosting, your website will likely be on a server with 3,500 other websites, of which you have no idea who's websites are right along side yours on the same IP address. The biggest danger with shared hosting is that if one of the other owners of a website on that shared account uses black-hat marketing techniques and gets banned, the hosting company will temporarily lock down the entire web server (your website included) until the client is identified and dealt with. Your website could be non-functioning during the process. If you MUST use shared hosting, at least choose a website hosting company that will provide you with your own IP address and make sure you have an SSL certificate so that your domain name comes up as https:// instead of http:// when a person views it.
Support. With so many hosting options available, there is really no reason to choose a website hosting company that provides no method for you to converse back and forth with a person. Online chat has become a worthy substitute for phone, but hosting companies do tend to shut off their online chat for weekends; which of course is the preferred time period when hackers love to take down websites! Be sure to ask the question, "What happens when my website becomes unaccessible at 1am on a Saturday?"
Server Operating System. Linux is better than Windows if you are using WordPress for your Author website. Linux is not only faster and more secure than Windows servers, but WordPress is built with PHP scripting language and needs a lot more configuring to get it to work right on Windows.
Backup and Maintenance. Don't be fooled by hosting companies offering free backups and updates of plugins and WordPress versions. If those "automatic" updates and upgrades actually do happen, and there's a conflict with one of the versions and your WordPress theme, your website will suddenly be inaccessible. And, you might not even know it until someone reports to you there's a problem. Make sure your maintenance and support package involves having daily backups as well as a monthly backup to revert to in case of malicious code invading your website or plugin incompatibility.
Page Load Speed. Your website's page load speed is ranked 1-100 by Google's PageSpeed Insights web-based tool. Your author website should come in at 70 or higher.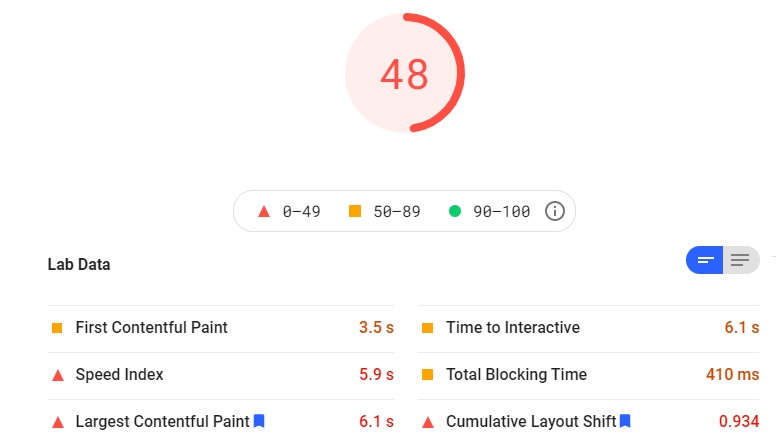 WordPress Framework. There is a slowly growing trend to move away from WordPress websites due to their need for ongoing maintenance, frequent backups, and growing threats of malicious code invasions. Static web builders like Jekyll and Hugo do not have a database like WordPress requires. They use flat files, html and CSS. The tradeoff is that they require a different set of steps to change content and add blog posts that many would find much more cumbersome than WordPress. So, at the time of this writing, we are going to continue recommending WordPress as the best practices standard for author websites.
WordPress Theme. This is a difficult "best practices" to present. I have no individual theme name to consider the gold standard of author websites. We have moved away from themes entirely and use what's called an "HTML Template" where we build the rest of the components from scratch. This method cuts out almost all of the "code bloat" (excessive code inserted into WordPress themes) thereby allowing the website to deliver to the viewer screen faster. Also, there are far fewer security holes in an HTML theme than using a purchased WordPress theme, which of course reduces downtime and angry visitors.
WordPress Plugins. Every WordPress author website needs to have plugins designed to A) Keep the website secure from hackers and malicious code injections, B) Cache the pages and posts of the website, and C) Configure the pages and posts for proper listing on Google search and speed of delivery. We prefer a plugin suite called Hummingbird which incorporates all of these capabilities.
WordPress Maintenance. Maintenance was brought up in the website hosting area, but maintenance specific to WordPress needs to be mentioned too if your hosting company does not provide it OR if your website has some complexity to it that goes beyond your hosting provider's standard maintenance and backup plan. Best practices for WordPress websites for authors involve having a person login to the admin area of the WordPress website each week (at minimum) and updating any plugins that show updates waiting to be activated. A manual backup should be made first before attempting the updating or upgrading of any WordPress plugin or WordPress version.
Mobile Responsiveness. Your author website needs to be viewable on various computer types, operating systems (pc versus mac), monitor sizes and browser types and versions, as well as the many types of mobile devices such as smart phones (Apple or Android), iPad, Google's Pixel Slate, the Portal, and other mobile devices.
Display a Single 3D Book Cover. Using a single or stacked 3D cover on your home page gives a professional effect and provides the reader a feeling like you put effort into your cover. When you accomplish that, readers will assume the content of your book follows the same professional standard.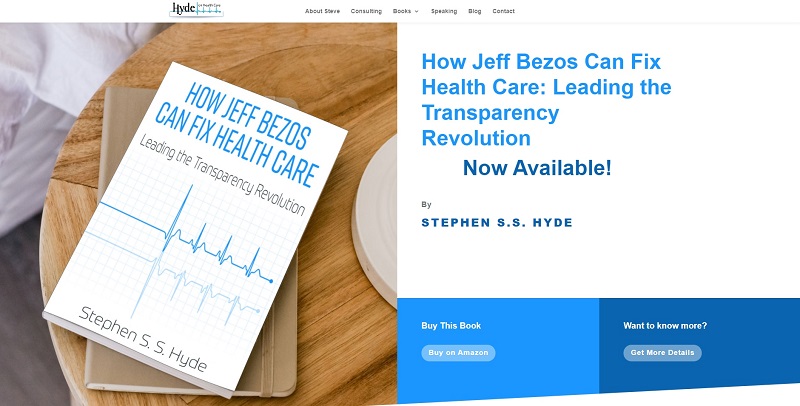 Featured Book Title and Sub-Title. The first line of your home page needs to accomplish a few things:

Hook the website visitor so they are intrigued to stay more than three seconds.
Identify the book title and sub-head so they recognize they have found the right website.
Provide Google with the information it needs to properly list the website on its search index.

To make all of those three things work together, think of your first 10-15 words as a headline more than just a book title to feature.

For example, in the image above, you can see how the book title itself is used as the headline. Just the mentioning of Amazon makes people take notice. The title on its own is enough to accomplish all three components.

The Turnaround Plan image near the top of this post, however, uses a question directly talking to business owners who's businesses have been impacted by Covid-19. Then, the main keywords of the book title are used to suggest action, followed by the book's actual sub-title. This technique elevates an already intriguing book title into something that is a fix to a very current problem.

Be sure to use a large, bold, font type for your book title or headline and a smaller (but still bold) font weight for your sub-head.
Short Book Description. A book description for an author website home page is slightly different than what you would see for a book description on Amazon or even on the back cover of the book. When people go to Amazon to consider buying a book, they are making a decision whether they trust the description of the book enough to buy it and read its contents. Book descriptions on Amazon, for example, are written mostly about the book itself, and a little bit about the author. When people visit an author website, they're trying to decide if they trust the author enough to buy the book. Book descriptions for author sites should include a little about the book and a lot more about the author and why the book was written by this particular author.
Author Description. The author description can be the same as the author bio that's used in the book. It doesn't have to be identical, of course, but it will be a time saver to just use what's in the book.
Professional Author Photo. I strongly urge you to have a professional photographer stage an official (and recent) professional photo of you. Wear clothing that matches the environment and theme of your book and author authority expectations to establish consistency.
Buttons to Buy or Get Details. These buttons should be visible in the first fold of the website and before the scroll on a phone if possible. Some people will reach your author website from outside sources knowing they just want to buy the book without having to be sold by your website. Don't let them down! Provide an easy, quick and obvious path to buy on the Home Page. But, offer a "Details" button right next to it because most of your first-time website visitors will need more information before making their decision to buy.
Navigation Links. Your top header area should only highlight 7 or less main navigation buttons. More than that and your author site already looks cluttered. Author sites are supposed to be simple…until you develop a suite or series of books or products to offer. Even then, they should "appear" simple even if they're a bit complex. If you are a speaker, you should have a page or section of your website devoted to your speaking topic. Include an About page, Contact page and Blog page; but, only the blog area if you plan to make consistent additions to your blog area over time.
Home Page Header. The trend for home page headers for an author page is to keep it skinny. The idea is to get readers beyond the navigation and onto viewing the main book cover. Their decision should be quick, whether to just buy the book now or get more details. You want both of those choices to be in the first fold of the home page.
Where your Home Page gives a fast-loading, brief overview of your book and you as the author, the Book Details page is the place to add more in-depth facts about your book. 
Display a 3D Book Cover STACK. The point of this type of image is to offer a different graphic of the book than what you supplied on the home page to avoid repetitious use of the same image. You could also swap (test) your stacked cover image with the main, flat, book image you use on your home page.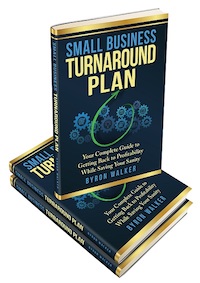 Benefits List. Your book details page is a great place to showcase a string of one-liner benefits readers will receive when they purchase your book. You're allowed limited characters in your Amazon book description and even less space is available on your book's back cover. Use a combination of both sources as a starting point for your bullet list of benefits. Use this resource of power verbs and start each benefit with a verb.
Author Photos. On your Home Page, you should have a main author photo. An additional author photo or two (different than what's on the Home Page), should be featured on your book details page. Just a personal preference, but, I will usually suggest a more formal author photo for the home page and a more casual photo for the book detail page. Think of it like a mullet…serious on the front and a party on the back.
Testimonials. Video testimonials are best if you can get them. Screenshots of testimonials as shown on Amazon are particularly effective. Written testimonials you've received by email or in discussion are good, but only if the person allows you to use their first and last name and preferably location or company name.
Bonus Area. Feature an example or two of what readers will have the opportunity to gain access to in book bonus area on the same website. In Byron Walker's case, accumulating emails is not a priority. So, he elected to provide his entire bonus area without an opt-in or password-protected page. For most business owners, you will want to create a bonus area that is password-protected and use it to add value to the purchase of the book. More about best practices for bonus areas below.
Purchase Link. Of course, the most important part of anything you could add to your author website is having a Buy Now link. To add credibility, use a button supplied by the book selling outlet (Amazon, Barnes & Noble, etc.). Even though we strongly urge you to register a domain name for your book title, we also suggest your buy now link on your website to be the FULL URL. Google 'may' give your page just a smidgeon of SERPs favorability by having a link to an authority site like Amazon or other book publisher. Your forwarded book title domain name would negate that benefit if there was one.
Topics You're Available to Interview for. Review the main sections of your book and create 3-5 titles starting with the word "How" and "When" and "Why."
Link to High Res Author Photo. High res photos are at least 300 PPI (pixels per inch). Be sure to add a link or a button to the actual image instead of loading the photo in-line on your page. Vertical author photos are the most requested, although, if you have a horizontal photo, add that as a second option.
Link to High Res Book Cover Image. Your main book image should be featured (with links to the actual image) for both a flat, non-3D image as well as a single 3D image of the book.
Links to Articles. When you become featured in an article, spotlighted in a blog post, stack them into a section of your book details page.
Links to Podcasts or Other Video Interviews. Stack these into their own section under articles.
Self-Hosted PDF of Each Press Release. Press releases are a great way to gain attention from bloggers and gain some links to your book website from other websites who post press releases.
Vital Statistics for Your Book. The media page is also where you should feature specific components related to your book, including: official book title and sub-title, publisher name, ISBN, book page length, word count, and publishing date.
One of the less talked about pages of an author website could become one of your most valuable. We call it a book bonus page. This is an area of your website that is typically not made available to the public…until the book has been purchased.
Password-Protect the Page. WordPress has a built-in feature for adding password-protected pages. You only get a single password that all readers would use, but it's free, easy, and does not require any additional plugin to activate.
Require an opt-in to Get the Password. Setup a new page within your author website but do not add it to your navigation buttons. This is the URL you will be adding to your book for readers to go to so that they can opt-in to receive the password to your protected page so they can get access to your bonus area.
Mention the Opt-in URL a few times throughout your book. Also add a special bonus page in the back of your book to showcase the bonus offer.
Use Simplified Samples in Your Book. If you provide a spreadsheet file or web-based tool in your bonus area, feature a screen shot of it in your book.
Add New Content to Your Bonus Area Once per Month. Adding new content will give you a good reason for sending an email to your bonus subscribers, which keeps you top in mind, sells more books, and provides the opportunity for you to suggest working with you on a more in-depth level than what the book provides.
Video. The best practices standard is slowly becoming having a book trailer for your non-fiction book. The book trailer video has taken a long time to mature in the non-fiction world for whatever reason, probably because they are left to the author to produce. I have never heard of a traditional publisher producing a book trailer for a non-fiction book. My own book trailer is almost complete for my Lions Always Win book and I will be sure to reveal the process we used for that and develop yet another best practices list in another post. The book trailer could be used on the Home Page of an author site as well as the Book Details page.
Links to YOUR Podcast or Clubhouse Club. The more involved you are providing content of value to the public, the more you will be seen from media sources as having a dedication to your industry. Just like a speaker hiring agent wants to watch videos of a professional speaker before hiring one, podcast owners, radio and tv scouts want to see what you look like and sound like before inviting you on their shows.
Speaker Page. One of my favorite sayings is, "If your book is good enough, you'll eventually be asked to speak." If you intend on getting called on for speaking, create a page on your author website specific to Speaking and add it to your navigation buttons. A more detailed post about creating a speaker page is coming soon, but here is a brief list: speaker photos on-stage AND on virtual live, videos, speaker testimonials, a speaker one-sheet, company or association logos.
Contact Page. The best practice for contact pages is to have the inquirer's contact details and question or comment logged directly into your Contact Relationship Manager (CRM). Contact us plugins are fine to get started. But, your next step is to automate the connection between your author website and your CRM.
If you are an author researching how to build an author website, your challenge will be articulating all of these author website best practices to your web site designer or developer.
A website "designer" might build a pretty site for you and do a great job featuring your book cover, but neglect many of the WordPress related best practices and page load speed requirements of today.
A "developer" might deliver the fastest loading website you've ever seen! But, the same person might lack the knowledge of what decisions website visitors go through before purchasing your book. So they fall short of designing components of the website to guide the potential reader through the buying process.
If you ARE the web developer or designer working with an author website client, you have the reverse problem.
Your author client either has no clue how what to ask for in an author website…or…they think they know everything and place demands and constraints on your development direction.
What is the solution that brings it all together for authors, designers and developers?
"Get on the Same Page" with the Author Website Pre-Flight Document
A pilot always checks the tires, engine and wings of the plane before taking off. This is called a pre-flight routine.
We supply the same type of routine for developing websites. We call it the Author Website Pre-Flight Document.
For the past 20+ years, Here Next Year has built professional websites for authors, speakers, providers of professional services and product sellers alike.
Each industry requires certain best practices just like we have been outlining for you in this post for author websites.
The Author Website Pre-Flight Document is an extensive Word document that has evolved through the production of hundreds of websites.
The purpose is to ask the author to complete a series of questions about their website wishes as well as their book, speaking, and business background.
Here is a sample of just one of the 13 pages included in the Author Website Pre-Flight Document.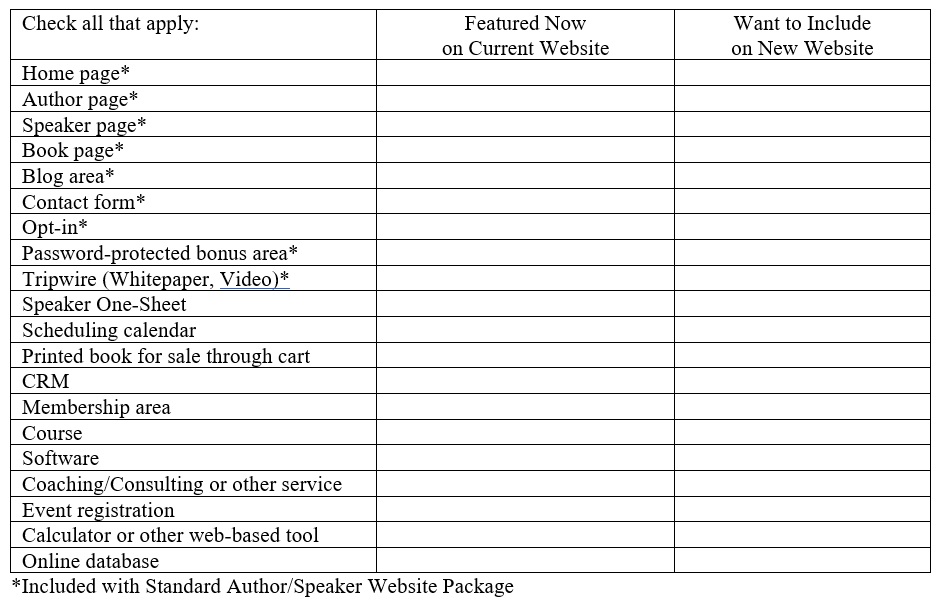 The author will typically spend two to four hours answering all of the questions. Some will take shortcuts by skipping a question here and there. Others will purposely not answer the question because they really don't know how to answer it.
The author then sends the completed document to the website designer or developer, who gains an immediate understanding of the scope of the project. 
One of the hidden contributors to the project as a whole is that the Pre-flight document helps the developer learn the client's internet marketing knowledge and experience by the way the questions are answered. 
The author is challenged by some questions that require decisions before the developer is tasked with creating them.
Author website best practices, as described in the post above, are built-in to the website pre-flight document.
The result is a complete and detailed outline of what the author wants for their author website in a way that can be interpreted correctly by the developer for implementation.
sends the completed document to the website developer and gains an immediate understanding of the scope of the project. 
Our Author Website Pre-Flight Document is available for purchase by the author or website services provider in hopes that the website development project will run smoothly for both parties.