Developing Your Authentic Speaker Positioning Statement for Clarity and Cash
Also known as an elevator pitch or branding statement, your speaker positioning statement is that one sentence that quickly identifies who you are, who you work with and the outcome that audiences can expect if you were to be brought in as a speaker.
Positioning Statement Length
Your positioning statement should be short enough so you can memorize it, long enough so it's complete, and intriguing enough so people want to know more. Speaking business expert, Lois Creamer, suggests: "Keep it within seven seconds."
Positioning Statement Usage
Use your positioning statement whenever you introduce yourself. This could be on the phone, in-person, in your profiles on social media, on your speaker one-sheet, or in a virtual live setting.

The key is getting your positioning statement just right so that you can say it at a moments notice without thinking about it or stumbling through it…but yet, make it conversational too.
As Discussed on Make Money Speaking on Clubhouse August 9, 2021
Working on and developing your speaker positioning statement will be the biggest gift you give yourself in the speaking business. You will always be equipped to answer the "what do you do?" question.
Here are some great examples of Speaker Positioning Statements from Clubhouse:
LOIS CREAMER: I work with speakers, experts, and consultants who want to book more business, make more money, and monetize their message.
MARTY DICKINSON: I work with business owners, authors, speakers, coaches, who want to practice their presentation skills every week with other new and emerging professional speakers so that their real speaking dates have red hot opportunities contacting them!
RJ JACKSON: I work with people who are ready to get clear as day so they can sleep peacefully at night, then wake up and live the life they dream about personally and professionally.
FRANK KITCHEN: I work with organizations who want their people to break through mental and physical barriers to live their dreams they hunger for!
More million-dollar nuggets were shared as members from the audience came to the virtual stage and shared their positioning statements for feedback!
(Keep reading to discover Lois' statement formula)
Seek feedback for your positioning statement and always be willing to tweak it a bit over time.
The best speaker positioning statements can be said in 7 seconds or less.
OUTCOME STATEMENT!! Include in your statement what a person is getting out of working with you. People want to buy outcomes, when we speak in that language it allows clients to visualize their employees or audience living that outcome.
It's great to put your statement at the end of a blog post or article
Clubhouse is a great place to actively practice your statement any time you are called up to speak in a group!
When you have a good positioning statement you will always know what to say and what to write!
Keep your statement up to date on all of your platforms: voicemail, website, email, social media, etc.

How Scripts Combine into Authenticity
When you attend networking events or sit in on Clubhouse rooms, you will hear many forms of scripts people will use to introduce themselves. Some are blatent sales pitches. Some are delivered in the form of a life-long story until the moderator stops the speaker! Some are read word-for-word.
If you have not yet crafted your statement by the time you are asked to introduce yourself, you wind up fumbling through an incoherent message that has little to no impact on the listeners. So, what happens? You start listening to others and how they introduce themselves and start to form your own script.
To more fully understand how your script turns into a true positioning statement consider this graphic.
The Self-Promotion Script Quadrants
When you realize the true importance of having an authentic positioning statement of your own, the first natural step is to listen to scripts others use. If you hang out frequently on Clubhouse, you'll hear some pretty outrageous introduction scripts. 
"I've helped take 16 companies public in the past three years." 
"I hit 7 figures for the first time when I was 19."
"I started 22 companies, two or more per year for the past 12 years."
What's the obvious reaction? We create scripts in our own minds.
Scripts We Tell Ourselves
To get more specific, we listen to scripts others use and then inflate our own scripts to sound more accomplished than we really are.
This is the main problem you will hear in Clubhouse rooms where moderators are calling out fakes. People who cannot live up to their claims are easy to spot in a Clubhouse room discussion. The fortunate figure this out before they embarrass themselves…and move to the next quadrant.
Out of fear of sounding too pompous, the new networker/self-promoter tends to over pitch and under promise. When you hear someone get stopped in their tracks in a Clubhouse room half way through their pitch, that person is in this quadrant. 
The result is embarrassment and wasted time because the person in this quadrant is reluctant to participate further. No leads or sales emerge from their short participation and, in the case of Clubhouse, the app itself gets the blame. "Oh, Clubhouse is just a time suck! It didn't work for me."
Those who are successful in Clubhouse (or networking in general in any other form), realize they need to change their approach. Those who can visualize the next quadrant are those who succeed in evolving in the right direction.
Scripts Others Hear from You
This quadrant is a bit of challenge to describe. It's even a bit harder than that to really know unless you personally ask several people.
When you introduce yourself, what do others hear you saying? What is your voice inflection (or monotone) telling them? Are you excited about how you're describing yourself or bored? Do you sound like the expert you claim to be? Or, are you turning people away before they even give you the chance?
If you are willing to study yourself a bit, and ask for, listen to and apply feedback from others, you will finally arrive at the center of the quadrant.
Construction of an Authentic Positioning Statement
I've been co-moderating a weekly Clubhouse club with Lois Creamer since January 2021, called Make Money Speaking.

Every six weeks or so, we devote the Monday two-hour session to constructing speaker positioning statements and having participants verbalize their statements to the group for critique. 

Lois is best in the business at helping speakers craft their positioning statements. Let's take a look at what a speaker positioning statement is, exactly, and let's start with Lois Creamer's statement as an example: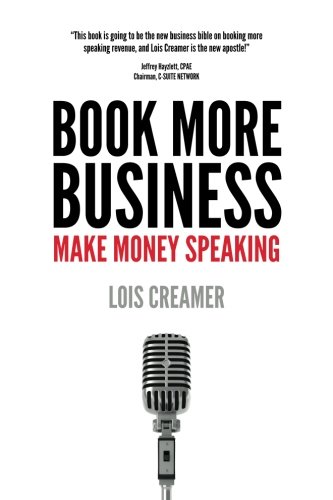 In her book, Book More Business: Make Money Speaking (on Amazon), Lois gives a great example of a powerful positioning statement, her own:
"My name is Lois Creamer. I work with speakers, experts, and consultants who want to book more business, make more money, and monetize their message."
It meets all the criteria she suggests, including target audience, outcomes expected and the 7 second rule.
Now let's look at one specific component Lois insists on.
Now, for you business networking experts reading this, what's the first thing you notice in Lois' statement? She uses the words "I work with" instead of "I help."
Some years ago, Lois presented to the Colorado chapter of National Speakers Association. My company, Here Next Year, was a co-sponsor of the event. I'll never forget when she stood on stage and said, "Volunteers help. We work."
Do you see the difference? I sure did.
So, she proceeded to  convince every professional speaker in the audience to change their positioning statements to use the words "work with" instead of "I help."
Include at Least One Benefit
The other component of Lois' positioning statement is that she includes three benefits. Far more people will pay attention to how you might be able to make their lives better than the mechanical description of how you'll do it.
People might ask you "How do you do that?" after you orate your positioning statement with benefits. But, then they're actually willing to invest their time and focus to pay attention to you.
Using Lois' Positioning Statement Formula to Create My Own
At Here Next Year, we've "helped" business owners with their internet marketing for the past 25 years. But, that doesn't give any benefit to a person hearing, or reading, a statement like that, except maybe for the longevity factor of 25 years.
So, let's put Lois' formula to work:
"I work with business owners, authors, speakers, coaches, who want to practice their presentation skills every week with other new and emerging professional speakers so that their real speaking dates have red hot opportunities contacting them."
I mean, who wouldn't want one or all of those things as a business owner?
This is the exact sentence I use on my speaker page, one-sheet, voicemail, social media and in every introduction.
Create Your Own Authentic Positioning Statement Now...and Practice it Too
Your next step is to write your own positioning statement and make it authentic to you. Write these three lines on a piece of paper and simply fill in the blanks:

I work with _______________

Who want to _______________
So that they can _____________
Then, come to the next Make Money Speaking session and introduce yourself to us using that statement so Lois can help you tweak it to perfection!
The Make Money Speaking Clubhouse Room meets  every Monday (4pm Eastern, 5pm Central, 6pm Mountain, 7pm Pacific) where you'll get plenty of opportunity to practice your positioning statement and receive immediate feedback from other professional speakers. It's a safe place to practice with Lois as your room host and me as your co-moderator.
We hope to see you there!