Speaker Theater is returning in 2022! The day-long event is being planned for Spring 2022, where eight topic experts will deliver their best 45 minutes of expert content in front of a live AND virtual live audience! 
TEDx meets Toastmasters in this new event designed to showcase speakers beginning or advancing their professional speaking careers. Each speaker gets 45 minutes to deliver their best material and is provided with professional video and photos for their website + immediate critique of their performance by a live audience.

Our prototype event was in December 2019. Just as we were expanding to other cities, Covid-19 shut down events around the world. We are looking forward to audiences having more confidence in attending in-person events again in the new year. And, we'll be right there when it happens!
What Did Attendees Say About Our Previous Event?

"This is a really good event for speakers to attend from a new speaker, to someone thinking about becoming a speaker, to already a speaker. I know you are looking at being a speaker. I suggest you check out this event."
—Cindy Saylor, Welcome Wellness

"Very well organized and prepared. Speakers are very well prepared and professional. Inspiring speeches and a good way to network to grow your business."
—Jessie Xu, Juenesse Global

"Be there! It's fun and educational."
—Hazel Rambotham, Author 88 Keys to a Long and Purposeful Life

"I loved the informational content I learned at this session. Very great!"
—Tessa Britton, Monarch Health and Life Coaching

"I really enjoyed and learned from all the speakers! The pace was good with everything running on-time."
—David Cowley, Innovative Solutions Properties, LLC

"This was an excellent event. Definitely time well spent.
—Dennis Jones, Project Gateway

"It's a great model for speakers/presenters to learn through others' critiques."
—Katy Fleming, Lifetree Plan for Success

"Engaging, practical, convincing opportunity to encourage and to be encouraged."
—Russell McCall, Aurora, CO
Speakers from Previous Speaker Theater
How Speaker Theater is Different than Any Other Public Speaking Event
Professional speakers are taught early on to make their presentations all about the audience. We want every Speaker Theater presenter to do the same.
HOWEVER, Speaker Theater is that one opportunity to speak in front of nearly 100 supportive participants where the audience is full of people who LOVE to watch speakers present. They are eager to participate, will not be texting on their phones, don't hold back their laughter when they hear humor, and provide constructive feedback for the speakers to improve. This environment is perfect for providing the speaker with top quality performance video and photos for their websites.
So, Speaker Theater's purpose is to benefit the speakers as well as the audiences.
The General Public: If you share in the desire to help  speakers get a boost in their speaking careers, we hope to see YOU at the next Speaker Theater event in 2022.
Speakers: If you are a new or emerging professional speaker, come and see how it all works. Then, consider applying for a speaking slot at a future event. 2022.
Speaker Hiring Agents: If you are a meeting planner, event planner, educational program director or hold any other title that hires speakers, Speaker Theater is a great opportunity for you to see new speakers in action.
Speaker Coaches: Bring your speaking clients to Speaker Theater, then get them enrolled in our 3-week prep class (Coaches attend free when they get three speaker clients enrolled).
[Note: We are not a speakers bureau or broker and get no commissions from future speaker bookings.]
Speaker Theater Event Venue
Our first Speaker Theater event was held on Tuesday, December 17, 2019 from 7-9:00 p.m at the Doubletree Hilton Hotel, 13696 E. Iliff Place in Aurora, CO. We will continue to use this venue until we max out the room and need a larger one.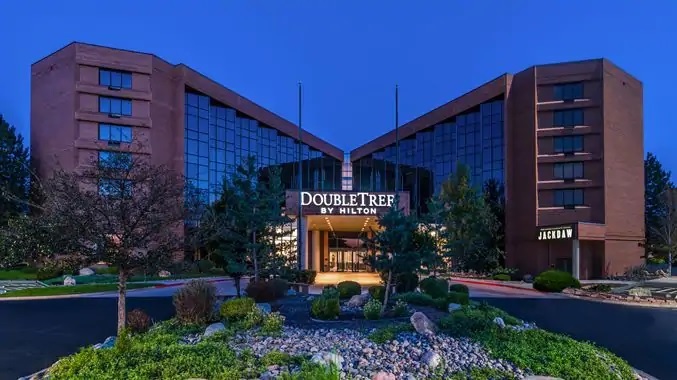 Want to be a SPEAKER at an Upcoming Speaker Theater?