I attended my first Ignite Boulder in Fall 2019 to see how it all works. More than 1,000 packed into the barn-like structure at the Colorado Chatauqua to hear 12 presentations by a dozen new and young speakers covering multiple topics in 5-minute increments in front of a supportive audience.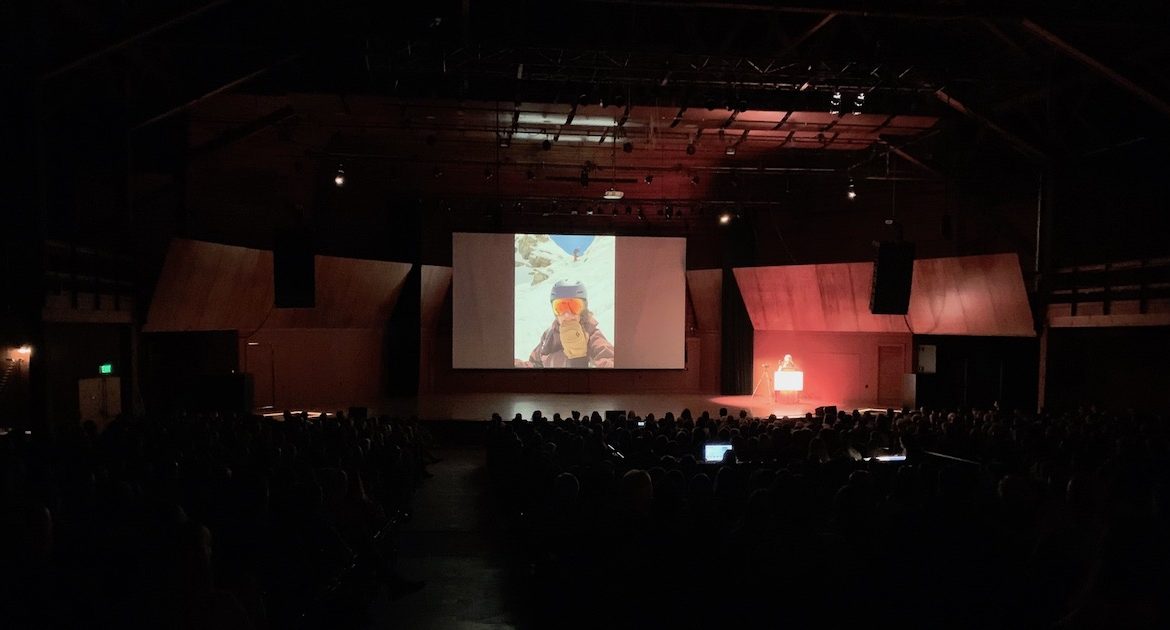 Ignite Boulder is one of nearly 200 Ignite event locations conducting two to four events each year. Ignite Boulder claims to be the largest Ignite event of all locations around the world.
To sum it up, attendees pay $15 per ticket ($5 early bird tix) for a little less than two hours of entertainment. Speakers submit a form on the local Ignite website for which they would like to speak. Ignite Boulder (and other locations too) is a great opportunity for new speakers to get experience assembling a 5-minute speech about a topic they are passionate about and delivering it in front of an audience of more than 1,000 supportive people.
My First Impression of Ignite
The venue was huge and much larger than I expected for a free speaking event. See this quick video snippet. I had to end it quickly because they started the event at exactly 7:00 p.m. just as I hit the record button.
The event started on-time at 7:00 p.m. and the organizer gave a 5-minute talk to introduce Ignite for fist-timer attendees. His opening was only five minutes and used 20 slides that auto-rotated. This was a good warm-up for the audience so we knew how the presentations would work.
Then, we launched right into the scheduled presentations.
No introductions were read or announced by the Master of Ceremonies. Only a first screen with the speaker's name and a background image was displayed on the massive screen and applause were provided as the speaker approached the speaking area. There was a brief pause between speakers for applause and the next presentation would begin.
Here are three consistencies between all 12 speakers featured at Ignite Boulder this time around:
No mentions of companies were made during the presentations. I get it that speakers are not supposed to make any sales pitches. But, I absolutely saw ways where speakers could have done more to inspire the audience to connect without appearing salesy.
Each speaker had a slide at the end where the audience was invited to connect by way of Twitter or Facebook. But, many of the handles were too small on the screen to see from the back.
All presentations had what I call "planted humor." It was obvious to me as a 15 year speaker and speaking mentor that each presentation was scripted word-for-word and then spruced up later through coaching to add humor points. There's nothing wrong with this, but is actually a good thing I believe where coaches are provided to help the speaker to add an entertainment factor into the content.
Speaker slides were unusual. I wanted to meet the organizers to ask about the crazy high level of quality displayed in the PowerPoint slides used in all of the presentations. But I decided to beat the large crowd and get to the first shuttle bus back to the parking lot. So, I will have to research that for a future post. Of all 240 slides for the night, I only recognized two images that I've seen before on websites or in other presentations! I'm still scratching my head how that might have happened. Either all of these speakers were required to purchase unique rights to photos and images or Ignite has some other reservoir of image resources to use for these presentations. More to come on this!
Youth dominated the stage. One of the speakers was in his low 40's but every other speaker was between 25 and 35 years old. I hope to think Ignite would not turn away a speaker based on age (as that would be age discrimination), but it is possible that speakers in older age groups do not know about Ignite or feel they would not get accepted to speak due to their lack of interest in topics covered by Ignite speakers.
How to Get Booked for an Ignite Talk
The process for how to get from application to stage is very organized and professional. The key is to be patient. Here are the steps:
Find an Ignite in your area.
Attend the event so that you are comfortable with the format and audience.
Analyze the topics of the speakers on-stage. Consider how you might describe your topic in a way that blends with Ignite's preferred types of topics.
Refrain from boasting about your current professional speaking stature or speaking experience as I get the feeling the approval committee is more attracted to new and nervous presenters.
Submit an application to speak at the next Ignite (For the Boulder Ignite, the application form is here.
Speakers are coached how to produce a 5-minute speech that entertains and informs. Power point slides are used to support the speakers' points and each of 20 slides automatically rotates after 15 seconds.
What to Expect as a Speaker at Ignite Boulder
Presenters stand behind a standing lectern on a large stage and speak into a stationery microphone. Some speakers had a few notes in front of them but most were rehearsed enough to deliver memorized content for each slide.
Expect to prioritize your preparation when you get the opportunity to speak at an Ignite event. The crowd is very supportive so you can be confident that you will get a rousing round of applause at the end of your talk. Still, you will want to bring your A-game on presentation night and attend all of the mandatory rehearsals to perfect your speech construction and practice vocal variety to make the most of this speaking opportunity.
There were no sales pitches, but every speaker appealed to the audience to take some kind of action. Several speeches included politically sided content about global warming and client change. But, there did not seem to be any material so right or left wing focused that it would be overly offensive.
Ignite Presentation Format
There did seem to be a pattern for the five-minute speeches presented at Boulder Ignite. Here is a good video that describes the composition of a 5-minute Ignite talk.
Final Thoughts for Ignite Boulder and Other Ignite Locations
If other Ignite events are operated like Ignite Boulder, then I would consider Ignite locations around the world to be amazing opportunities for new and emerging speakers. Be patient and strategic when researching and applying for a speaking slot at your local Ignite and be sure to send a video link to me of your speech. I'd love to see it and share it with others.
Ignite has inspired us to start a live event of our own for people wanting to get into the professional speaking business. We're calling it Speaker Theater. So, be on the lookout for our next Speaker Theater Live event.